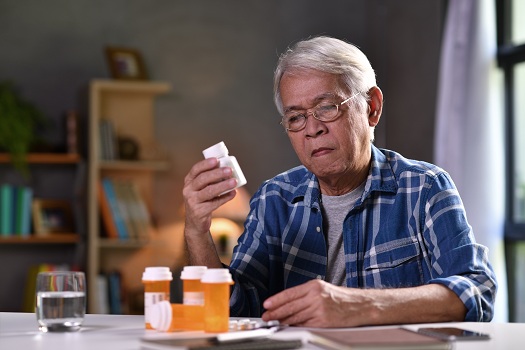 When people think of acne, they usually associate it with teens and younger adults. However, seniors can also develop acne because of health issues and age-related diseases. Here are some reasons your senior loved one's skin may be breaking out. 

Stress
Seniors who experience depression, anxiety, and stress have a higher risk of developing acne. The loss of loved ones, cognitive decline, and the inability to live independently are some of the reasons aging adults may become stressed. When the body produces hormones in response to stress, a little testosterone can leak out with those hormones and cause the oil glands to produce more oil, which leads to acne breakouts. Your loved one should avoid stressful situations to prevent this from happening. To reduce stress levels, seniors who are experiencing skin breakouts can engage in fun and relaxing activities.
A home caregiver can help your loved one adopt healthy lifestyle habits that reduce stress. In-home care agencies can be a great boon to seniors. With the help of the caregivers at Home Care Assistance, your aging loved one can lead a happier and healthier life. We offer a revolutionary program called the Balanced Care Method, which encourages seniors to eat nutritious foods, exercise and socialize regularly, and focus on other lifestyle factors that increase life expectancy.
Medications
The prescribed medications your loved one takes could be causing him or her to have dry skin and clogged pores, causing acne. Seniors are at higher risk for depression and anxiety, and the medications often prescribed for these issues can cause acne breakouts. If your loved one is experiencing a breakout, report it to his or her doctor, who may prescribe alternative medications.
Providing medication reminders and transportation to medical appointments are among the various duties a professional caregiver can perform for your loved one. If your aging loved one needs help managing everyday tasks or encouragement to adopt healthier lifestyle choices, turn to Home Care Assistance, a leading provider of home care service. Anchorage Home Care Assistance provides professional in-home caregivers around the clock to help seniors live longer, happier, and healthier lives.
Skin Products
Your loved one may be using a variety of moisturizers and soaps to cleanse and protect his or her skin. Senior women may also use makeup regularly. To prevent acne, your loved one should use products suited to his or her skin type. If your loved one has oily skin, some of these products can cause breakouts. Seniors should use products that are either water-based or labeled oil-free. Sometimes these products prevent and treat acne instead of causing it. Switching to noncomedogenic products can also help seniors prevent acne because they don't clog pores.
Sweet Treats
Sugary treats can cause health and skin problems for seniors. More seniors have diabetes than any other age group because of high insulin levels. Eating sweets can raise insulin levels and boost oil-triggering hormones that cause acne. To prevent acne breakouts now and in the future, encourage your loved one to eat low-glycemic foods. Complex carbohydrates such as whole grains break down more easily and cause less of an insulin spike than treats that are full of sugar.
By following these strategies and their doctors' advice, most seniors can treat their acne breakouts independently. However, some seniors have more serious medical conditions and require daily assistance from family members or professional caregivers. Certain age-related conditions can make it more challenging for seniors to age in place safely and comfortably, but Anchorage live-in care experts are available around the clock to help seniors manage their health. Whether your loved one is living with dementia or is recovering from a stroke, you can trust the professional live-in caregivers from Home Care Assistance to enhance his or her quality of life. Call Home Care Assistance at (907) 770-0907 to learn about our senior care services.