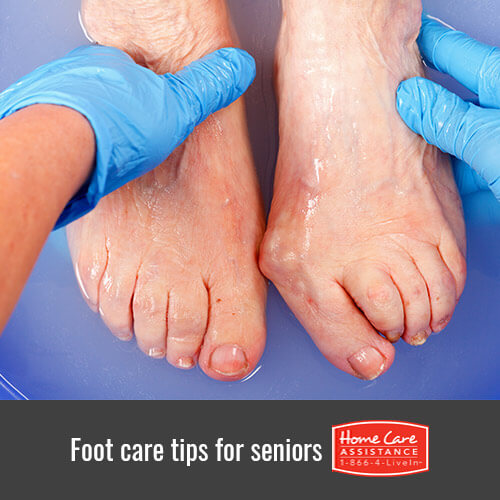 Arthritis and other age-related ailments can make taking care of the feet difficult for some seniors, which can lead to the development of various foot disorders. Anchorage home care professionals have a few tips to help your elderly loved one take better care of his or her feet.
1. Keep the Feet Dry
Washing the feet can decrease the odds of an infection, but failing to dry them after can actually increase the risk. When moist, the hard to dry areas of the feet become the perfect breeding grounds for infections. Your loved one needs to make sure his or her feet are completely dry after being thoroughly cleaned.
2. Wear Cushioned Shoes
As your loved one ages, his or her feet will likely lose some of their muscles and other natural cushions. However, wearing cushioned shoes or sandals provides your loved one with additional support to carry his or her body weight and reduce foot pain and the risk of other health complications.
3. Perform Visual Inspections
Inspecting your loved one's feet can help you determine if they have any wounds, skin growths, swellings, and injuries with no obvious symptoms. Tenderness in the foot could mean your loved one has an injury and needs to be taken to the doctor as soon as possible for treatment.
4. Elevate the Feet When Sleeping
When your loved one sleeps, make sure his or her feet are elevated to help blood circulate better. Poor circulation in the feet can lead to infections, pain, and serious health conditions. To increase blood circulation in your loved one's feet, place a few pillows underneath them to keep them leveled above his or her body when lying down.
5. Visit the Doctor Regularly
If your loved one has a history of foot disorders, take him or her to the podiatrist on a regular basis. A podiatrist can check if cracked bones have healed correctly or determine if the bones in your loved one's feet have stress fractures, which often go unnoticed. By visiting the podiatrist, your loved one can discover early symptoms associated with a foot disorder, and the early diagnosis helps the doctor treat the issue easier.
Foot care and other aspects of personal hygiene can become more difficult to manage in the senior years. If your loved one needs help with personal care, reach out to Home Care Assistance. In addition to helping seniors with daily hygiene tasks, we also provide comprehensive Parkinson's, post-stroke, and Alzheimer's care Anchorage seniors can rely on. For more information on our at-home care services, call one of our friendly Care Managers at (907) 770-0907 to schedule a complimentary consultation.