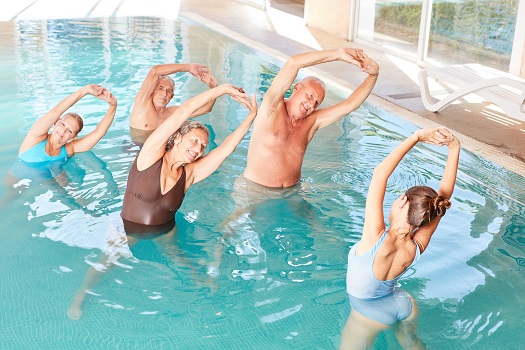 While Parkinson's disease (PD) isn't yet curable, there are many ways seniors can enjoy productive lives while living with the condition. In addition to regular medical care, therapeutic activities can be beneficial for older adults with PD looking to slow the progression of symptoms, especially ones that affect movement. Here are six activities that can be considered therapeutic for someone with Parkinson's disease.
1. Swimming
Swimming is a great therapeutic activity for seniors with Parkinson's because it enhances balance, mobility, and posture in a way that's not excessively stressful on joints and soft tissues. Simply moving in the water is therapeutic, since it increases circulation.
Caring for a loved one with Parkinson's can be extremely challenging, and a compassionate professional caregiver can be a wonderful source of support. If your elderly loved one is living with a serious medical condition and needs help managing the tasks of daily living, reach out to Home Care Assistance, a senior care agency you can trust. Our caregivers are available 24/7, there are no hidden fees in our contracts, and we offer a 100% satisfaction guarantee on all of our in-home care services.
2. Water Aerobics
If swimming is a bit too strenuous or your loved one simply doesn't swim, another option is water aerobics. Specific water-based activities can be tailored to an older adult's capabilities based on his or her symptoms and limitations. Therapeutic benefits associated with water aerobics include enhancements in:
Muscle strength
Joint mobility
Stress management
3. Stationary Cycling
There's research suggesting seniors with PD may experience fewer issues with unsteadiness and tremors by keeping their joints and muscles sufficiently stimulated. Stationary bikes can provide the right amount of therapeutic stimulation in a controlled and safe way.
A recumbent stationary bike can be especially good for someone with Parkinson's because bikes designed this way distribute body weight evenly while allowing the user to exercise while in a reclined position.
A related option for a senior with Parkinson's is to use a tandem bicycle. These two-person bikes have fixed gears, so your loved one can enjoy bike riding outdoors in a way that's safe and just as therapeutic.
4. Walking
As long as mobility symptoms are mild or moderate, walking can be an excellent therapeutic activity for seniors with Parkinson's. The journal Neurology notes walking may even minimize some of the motor-related symptoms associated with PD. What's also good about walking is that it can be done at a pace that's comfortable for older adults with Parkinson's.
Mobility issues in the advanced stages of Parkinson's can make it increasingly challenging to care for aging adults with the disease. If you're the primary family caregiver for a senior loved one living in Anchorage, live-in care is available if your loved one's health has become too difficult to manage without professional expertise. At Home Care Assistance, we take measures to help seniors prevent illness and injury by assisting with exercise and mobility, preparing nutritious meals, helping with bathing and other personal hygiene tasks, and much more.
5. Tai Chi
For seniors with moderate Parkinson's symptoms, tai chi can be a fun, relaxing, and physically stimulating activity. The movements associated with this discipline can increase both balance and coordination, which could reduce the risk of experiencing fall-related injuries. Tai chi can also benefit older adults with PD by contributing to:
• Increased leg strength
• Better flexibility and stability
• Healthier sleep patterns
• Greater mental concentration
Similar results may be seen with yoga and Pilates. In fact, a study referenced in Psychology Today involving people with Parkinson's showed all participants experienced enhancements in posture, stability, and their ability to walk after participating in a yoga program for two months.
6. Dancing
According to a report published in the journal Complementary Therapies in Medicine, dancing may enhance motor functions in some individuals with Parkinson's. It's also a fun therapeutic activity that can be done individually or in groups. Also, a study referenced by ScienceDirect found dancing can be an effective complement to traditional physical therapy for people with Parkinson's.
Many seniors in the early stages of Parkinson's are able to live on their own, but they may need a bit of help with the everyday tasks of life, such as exercising and preparing nutritious meals. Aging adults who require assistance with the tasks of daily living can benefit from reliable in-home care. Anchorage, AK, families trust Home Care Assistance to provide the high-quality care their elderly loved ones need and deserve. Our caregivers are trained to help seniors prevent and manage serious illnesses and encourage them to make healthier decisions as they age. Call Home Care Assistance at (907) 770-0907 to learn more about our flexible and customizable senior care plans.