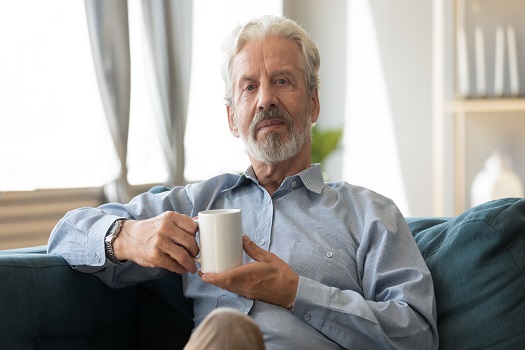 There's nothing wrong with seniors preferring to remain in their homes. In fact, many elderly people hope to be able to do so safely well into their golden years. Over time, however, spouses may pass away, and children tend to move away or become preoccupied with their own lives. These things are normal parts of life, but it's important for older adults to realize why living alone without assistance may not be healthy. Five of the top reasons are discussed below.
1. Poor Nutrition
When living alone, it's easy for older adults to turn to convenience foods that are quick and easy but not all that nutritious. This can be a problem because adults need to pay more attention to nutrition as they age to protect their bones and immune systems and maintain their overall health. Having some assistance at home makes it easier to adopt and stick to a healthy, well-balanced diet.
A home caregiver can help your loved one plan and prepare nutritious meals. Many older adults are choosing to age in place, and some need a helping hand to continue living at home safely and comfortably. Luckily, there is professional home care Anchorage seniors can trust and rely on.
2. Inability to Keep the Home Clean & Orderly
The CDC estimates roughly one of every four older adults in the United States falls each year. Falls are more likely to occur in a home that's cluttered. An unclean home also increases the risk of exposure to bacteria and viruses that can cause various illnesses. A family member or professional in-home caregiver can lend a hand when necessary to make sure the home is kept clean and free of potential fall hazards.
3. Cognitive Decline
According to the National Institutes of Health (NIH), cognitive decline associated with age typically begins around the age of 70. However, underlying health issues such as dementia can also affect cognitive capabilities. If your loved one is showing signs of cognitive issues, talk to his or her doctor to determine if some type of in-home assistance may be appropriate. At the very least, check in with your loved one regularly to make sure bills are paid and routine tasks are being taken care of
A professional home caregiver can be a tremendous asset if your loved one prefers to live alone. Not every senior has the same care needs, which means they don't all need the same type of in-home care. You can rely on Home Care Assistance to provide individualized care plans to meet your elderly loved one's unique care needs. Our holistic Balanced Care Method was designed to help seniors focus on healthy lifestyle habits such as eating nutritious foods, exercising regularly, and maintaining strong social ties, and our Cognitive Therapeutics Method offers mentally stimulating activities that can stave off cognitive decline and delay the onset of dementia.
4. Limited Mobility & Other Quality of Life Issues
Reduced bone density, decreased muscle mass, and joint-related conditions such as arthritis are just some of the reasons seniors can have mobility difficulties, and living alone with mobility issues increases the risk of not having immediate access to help in case of a fall or other emergency. Living alone can also be risky for older adults with quality of life issues that may involve:

• A chronic illness that requires regular care
• Frequent home accidents
• Difficulty getting around because of limited transportation options

The best solutions in situations like these will depend on how much quality of life is affected and what the specific problem is. For instance, if transportation is the main concern, a senior ride program could help your loved one get out and about more often.
5. Lack of Companionship
A 2012 study that tracked more than 6,000 elderly individuals for nearly a decade found lack of social contact may contribute to early death. In general, opportunities for social interaction tend to naturally decrease with age. Welcoming assistance from family members and in-home caregivers is one way older adults can stay connected and benefit from regular social engagement. 
For families living in Anchorage, respite care can be a wonderful solution when their aging loved ones need companionship and socialization a few hours a week or just need minor assistance with daily household tasks. At Home Care Assistance, we thrive on helping seniors maintain their independence while living in the comfort of home. Call one of our friendly Care Managers today at (907) 770-0907 to learn more about our customized care plans.