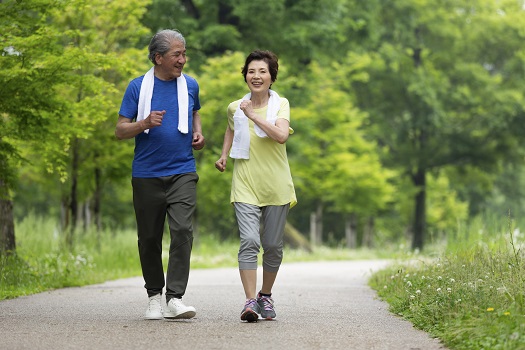 Osteoporosis is a degenerative disease of the bones that can be painful and disfiguring. It's more common in women, especially those past menopause. Fortunately, there are some tips you can follow to help your senior loved one prevent osteoporosis.
1. Increase Calcium Intake
Increasing dietary calcium by eating dairy products, fresh fish, nuts, and leafy green vegetables keeps the bones strong and resistant to osteoporosis. If your loved one is unable to meet the recommended daily allowance for calcium, talk to his or her physician about calcium supplements. While supplements are considered safe, consuming large doses of calcium carbonate or other types of elemental calcium may lead to hypercalcemia, a high level of calcium in the blood.
2. Serve Salmon
Eating fresh fish such as salmon is considered a healthy way to maintain bone health. Salmon is rich in vitamin D and may protect your loved one's bones against degenerative conditions such as rheumatoid arthritis, osteoarthritis, and osteoporosis. If your loved one is unable to eat salmon or other foods rich in vitamin D because of dietary restrictions or digestive issues, supplementing with a vitamin D tablet may suffice. It's important to avoid large doses of vitamin D because, unlike vitamin C, it's not a water-soluble vitamin. Instead, it's a fat-soluble hormone that doesn't get flushed out in the urine the way water-soluble vitamins do.
A professional caregiver with training in nutrition can be a wonderful source of information and encouragement as your loved one adopts new healthy habits, including eating more nutritious foods. Maintaining a high quality of life can be challenging for some seniors, but professional caregivers can help them obtain this goal. Families can trust Anchorage elder care experts to help their elderly loved ones focus on lifestyle choices that increase the chances of living a longer and healthier life.
3. Promote Exercise
Exercise is one of the most important ways to prevent osteoporosis in seniors. Engaging in physical activity keeps the bones from weakening and thinning, as they do in the presence of osteoporosis. Even if your loved one has limited mobility, he or she can still enjoy the health benefits of mild exercise. Simply taking a short walk after a meal can help your loved one maintain optimal bone health, as can performing sitting exercises such as leg raises and arm lifts. While exercise may prevent the onset of osteoporosis, always check with the physician before encouraging your loved one to begin a new activity regimen.
If you usually help your loved one exercise but need a break now and then, hiring a professional caregiver to take over on occasion is a great option. Anchorage respite care professionals can assist seniors with a wide array of daily tasks, offering family caregivers the chance to focus on other personal responsibilities or take a break to prevent burnout. Whether it's for a few hours a day or a few days a week, respite care is the perfect solution for family caregivers who are feeling overwhelmed.
4. Discourage Smoking
Cigarette smoking can cause poor circulation and bone destruction, which can raise the risk for osteoporosis. If your loved one has been smoking for many years, remind him or her that it's never too late to quit. Quitting can have positive effects on health and prevent many chronic illnesses as well as degenerative diseases of the bones such as osteoporosis. If your loved one is unable to quit smoking without help, make an appointment with his or her healthcare provider to learn about smoking cessation treatments.
5. Monitor Hormones
One of the main reasons for the development of osteoporosis is a decrease in estrogen levels, which typically happens during menopause. Estrogen keeps the bones strong and healthy, and when levels decrease, the bones can become brittle, weak, and thin. Hormone replacement therapy can prevent bone diseases such as osteoporosis, but it may not be appropriate for everyone.
Professional caregivers with training and expertise in using nutrition and exercise to prevent age-related diseases can be a wonderful asset for seniors. Not every senior has the same care needs, which means they don't all need the same type of senior care. Anchorage, AK, families can rely on Home Care Assistance to provide individualized care plans to meet your elderly loved one's unique care needs. Our holistic Balanced Care Method was designed to help seniors focus on healthy lifestyle habits such as eating nutritious foods, exercising regularly, and maintaining strong social ties, and our Cognitive Therapeutics Method offers mentally stimulating activities that can stave off cognitive decline and delay the onset of dementia. Trust your loved one's care to the professionals at Home Care Assistance. Reach out to one of our compassionate Care Managers today at (907) 770-0907.