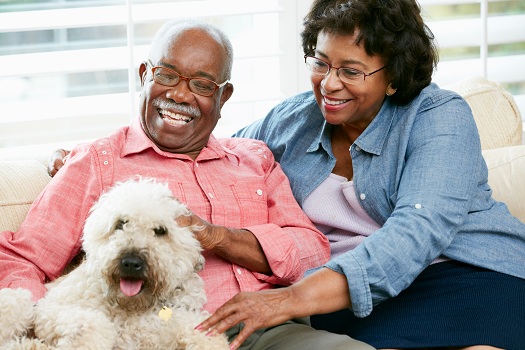 Pet therapy involves friendly, even-tempered animals that interact with adults in nursing homes, hospitals, and hospice facilities. These pets generally include dogs and cats, but other animals like fish, miniature horses, guinea pigs, and hamsters are also used. They're trained to socialize with seniors for short periods to provide physical and emotional support for those in need. 
Promotes Relaxation
Interaction with animals is soothing and calming when a person pets them, plays with them, or watches their funny antics. Studies show blood pressure, stress, anxiety, and depression decrease while interacting with animals. The brain releases the hormones dopamine and serotonin, which makes seniors feel content and relaxed. 
Not every senior has the same care needs, which means they don't all need the same type of elder care. You can rely on Home Care Assistance to provide an individualized care plan to meet your elderly loved one's unique care needs. Our holistic Balanced Care Method was designed to help seniors focus on healthy lifestyle habits, such as eating nutritious foods, exercising regularly, and maintaining strong social ties, and our Cognitive Therapeutics Method offers mentally stimulating activities that can stave off cognitive decline and delay the onset of dementia.
Provides Purpose
Seniors involved with pet therapy look forward to seeing the animals each day instead of dreading tomorrow. They feel they're needed and have a purpose in this stage of their lives. They believe the animals would miss seeing them as much as they would miss seeing their furry friends, which gives seniors a boost in self-esteem. 
Boosts Mood
Feelings of anger, stubbornness, and irritability are replaced with cheerfulness and patience in the presence of therapy pets. Simply stroking or holding an animal diminishes negative attitudes resulting from injury or illness. What was irritating earlier in the day is forgotten with the unconditional love of an animal. 
Pet therapy can be especially beneficial for seniors with cognitive impairment due to conditions such as Alzheimer's. Alzheimer's can be challenging for seniors to manage without assistance, and it can be just as challenging for families who don't have experience in providing Alzheimer's care. Anchorage Home Care Assistance provides Alzheimer's care seniors and their families can depend on. Our proprietary Cognitive Therapeutics Method was designed to help seniors with Alzheimer's and other memory-related conditions live happier and healthier lives.
Encourages Socialization
Interacting with pets makes it easier for seniors to interact with people. They have more to discuss with others than their physical ailments or what they ate or didn't eat for dinner. Interacting with animals brings seniors out of their shells, helps them open up to others, and encourages them to socialize. 
Stimulates Appetite
Age, depression, and inactivity decrease senior appetite. With help from therapy pets, seniors become more active and social, which promotes positivity and can stimulate the appetite. 
Therapy pets can be amazing companions for older adults living with a wide variety of age-related conditions. If your senior loved one has been diagnosed with a serious condition and needs help with tasks like meal prep, transportation, bathing, and grooming, reach out to Home Care Assistance, a leading provider of elderly home care Anchorage, Alaska, families can trust. We also offer comprehensive care for seniors with dementia, Alzheimer's, and Parkinson's. Home Care Assistance will work with you to customize a care plan that's just right for your loved one's needs. Call us today at (907) 770-0907 to discuss how we can give you the peace of mind that comes from knowing your loved one is being cared for with professionalism and compassion.