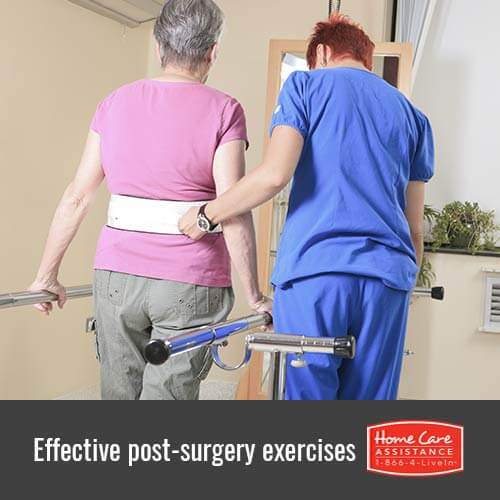 Encouraging your senior loved one to maintain an acceptable level of activity after surgery can actually help expedite the recovery process. Certain forms of movement are necessary for promoting bowel regularity after general anesthesia and others could be essential for regaining and increasing flexibility, mobility, balance, and coordination. The Anchorage home care experts at Home Care Assistance have put together a list of exercises that can help your loved one heal post-surgery.
Marching in Place
Many people have difficulty with balance as they grow older, but this can be a special challenge after a surgical procedure. Marching in place is a great way for your loved one to practice and increase his or her balance without the risk of slipping and falling. This exercise is also good for creating digestive regularity in seniors who have constipation or piles after receiving general anesthesia
Lifting a Single Limb
The single limb lift is another exercise aimed at increasing balance without risk of falls. Have your loved one hold on to the back of a sturdy sofa or chair while slowly lifting one leg off the floor and holding it high for several seconds. As your loved one's balance increases, ask him or her to try this exercise without relying on nearby furnishings for support.
Knee Bends
Some seniors may not have the ability to get out of bed for quite some time after their surgeries. However, this doesn't mean they are incapable of exercise. Getting the joints moving can keep them lubricated and sufficiently flexible for supporting more complex forms of movement in the future. To perform knee bends, your loved one should keep his or her foot flat on the mattress surface and slowly slide it up toward the buttocks. Knee bends should be performed at a comfortable, easy pace and your loved one should never force stiff, sore joints beyond the range of comfortable movement.
Arm Circles
Arm circles are another exercise your loved one can engage in while he or she is in bed. In addition to loosening, lubricating, and engaging the shoulder joints, this activity also helps get the blood pumping. Simply have your loved one raise his or her arms perpendicular to the body and trace slow, tight circles in the air. These circles should be approximately the size of dinner plates. This is a great toning activity that can also increase focus, control, and coordination.
Assistance with exercise is not just important for seniors who have just had surgery, but also for those with a variety of health conditions. For instance, if your loved one needs Parkinson's or stroke care in Anchorage, Home Care Assistance can help your loved one stay physically active. Our caregivers are available 24/7 to assist with exercise and many other important tasks that might be challenging for a senior with limited mobility, including bathing, cooking, and cleaning. For more information on our senior care services, call (907) 770-0907 today to schedule a free in-home consultation.