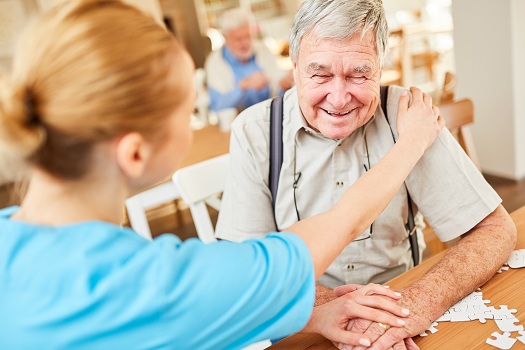 Seniors with dementia have difficulty remembering things, communicating, thinking clearly, and taking care of themselves, which could lead to many challenges for family caregivers. However, there are ways to make caregiving easier. Take a look at some of the things family caregivers should and shouldn't do when caring for elderly loved ones with dementia. 
Do: Inform Others about Changes in Your Loved One's Health
Caregivers need to distinguish the difference between keeping personal situations between them and their loved ones and sharing details that need to be discussed with others. For example, if your loved one is having issues moving around the home, you should relay this information to other family members as well as your loved one's doctor. Informing others about your loved one's limited mobility could prevent him or her from becoming injured while going from room to room. However, if your loved one shares a personal story from childhood that has nothing to do with his or her health, you should keep this between the two of you. Sharing personal stories could allow your loved one to reminisce and boost his or her cognitive function. 
Dementia is one of the many serious health issues that can affect a senior's quality of life. If your elderly loved one needs help maintaining a high quality of life while aging in place, reach out to Home Care Assistance, a trusted provider of elder care. Our caregivers provide transportation to and from medical appointments and social events, nutritious meal preparation, assistance with daily exercise, and help with everyday tasks like bathing, grooming, and light housekeeping.
Don't: Be Impatient
Seniors living with dementia have good days and bad days. Caregivers need to remain patient and make their loved ones' days as normal as possible. Your loved one may become confused or display negative behaviors, but you'll need to help him or her remain calm. If your parent repeats sentences and questions, don't chastise him or her. Answer your loved one's questions and try to develop new tactics to help him or her remember, such as labeling files, documents, or objects in the home. Being impatient could cause the situation to worsen. 
Without the right assistance, dementia can be challenging for seniors and their families to manage. If your senior loved one needs help managing an illness or assistance with daily tasks, make sure you choose a top-rated provider of in-home care. Anchorage Home Care Assistance is here to help your loved one live a happier and healthier life in the golden years. From the mentally stimulating activities in our Cognitive Therapeutics Method to our friendly Care Managers who are available to answer your questions 24 hours a day, we offer a wide array of high-quality at-home care services.
Do: Be Respectful
Although your loved one's cognitive abilities have begun to decrease, you'll need to show the respect he or she deserves. Keep in mind your loved one is still an adult who is living with mental, emotional, and physical issues. Give him or her your full attention, and make sure to respond with affection, reassurance, and respect. When you speak with your loved one, state your sentences slowly and clearly.
Do: Learn How to Distract & Redirect
It's normal for seniors with dementia to become agitated, but you cannot get upset with your loved one. Instead, learn how to change the environment or the subject. For example, if your loved one becomes upset after watching television or eating, you can distract him or her by suggesting that you two go for a walk. It's important to connect with your loved one on an emotional level before you redirect. If you see he or she is upset, you might say something like "I can see you're feeling down. I'm sorry you're upset. Let's go get dinner from your favorite restaurant." 
Caring for seniors with dementia can be challenging for family caregivers. Luckily, there is dementia care Anchorage families can rely on. Professional dementia caregivers help seniors with dementia stay safe and comfortable at home by preventing wandering, providing cognitive stimulation, and assisting with household chores. For compassionate, reliable in-home care, trust the experienced professionals from Home Care Assistance. Reach out to one of our dedicated Care Managers today at (907) 770-0907 to learn about the high quality of our in-home care services.