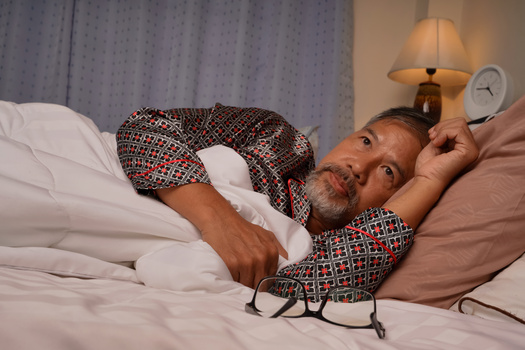 Night terrors are often confused with nightmares, but they're not the same thing. For some seniors, especially those with dementia, these terrors can seem real and cause them to become agitated and violent even after waking up. If your elderly loved one is experiencing this sleep disorder, it's important to understand the cause so the issue can be properly treated. Here are a few possible causes of night terrors. 
Sleeping in an Unfamiliar Environment
It's not uncommon for seniors who have recently moved in with loved ones or into assisted living facilities to experience sleep disruptions, including night terrors. The different sights, sounds, and even smells can be disorienting, especially if your loved one has dementia. 
Try to keep your loved one's sleep time and routine as close to normal as possible. You can also help your loved one feel more comfortable by making sure he or she has a few familiar items available in the new bedroom, such as a favorite pillow or blanket. 
Many seniors prefer aging in place over moving to assisted living facilities. If your senior loved one needs assistance to remain safe and comfortable while living at home, reach out to Home Care Assistance, a leading in-home care agency. Our dedicated in-home caregivers can assist with meal prep, bathing and grooming, exercise, medication reminders, and many other important tasks.
Sundowning
Seniors with Alzheimer's and other types of dementia frequently experience increased anxiety and confusion in the evening. These bouts may even include hallucinations and combativeness. This phenomenon, known as sundowning, can even affect the sleep cycle and lead to nighttime wakefulness, wandering, and night terrors. Medications may be able to help to a limited extent. However, the primary focus should be on eliminating safety hazards that could cause injury to your loved one during one of these episodes. 
Certain age-related conditions can make it more challenging for seniors to age in place safely and comfortably, but Anchorage live-in care experts are available around the clock to help seniors manage their health. Whether your loved one is living with dementia or recovering from a stroke, you can trust the professional live-in caregivers from Home Care Assistance to enhance his or her quality of life. 
Sleep Apnea
Sleep-related breathing issues like sleep apnea are common among people over age 70. These problems can cause your loved one to experience interrupted sleep cycles. The long-term oxygen deprivation can even lead to heart problems and cognitive decline. 
If you suspect your loved one has sleep apnea, ask his or her doctor about ordering a sleep study. If the study confirms the diagnosis, the doctor can prescribe supplemental oxygen or a CPAP machine, which can promote your loved one's sleep and overall health. 
Other Physical Health Conditions
The majority of seniors experience one or more age-related issues that cause pain and discomfort. Arthritis, restless legs syndrome, constipation, and Parkinson's tremors can all cause sleep deprivation and extreme fatigue, which can lead to night terrors. In most cases, these conditions can be managed with the appropriate medication as advised by a doctor. 
There are a variety of age-related health conditions that can make it more challenging for seniors to live independently. However, many of the challenges they face can be easier to manage if their families opt for professional home care. Anchorage families can rely on expertly trained caregivers to keep their loved ones safe and comfortable while aging in place. Home Care Assistance can be your trusted partner in caregiving for your aging loved one. Contact one of our experienced Care Managers today at (907) 770-0907 to learn more about our reliable in-home care services.